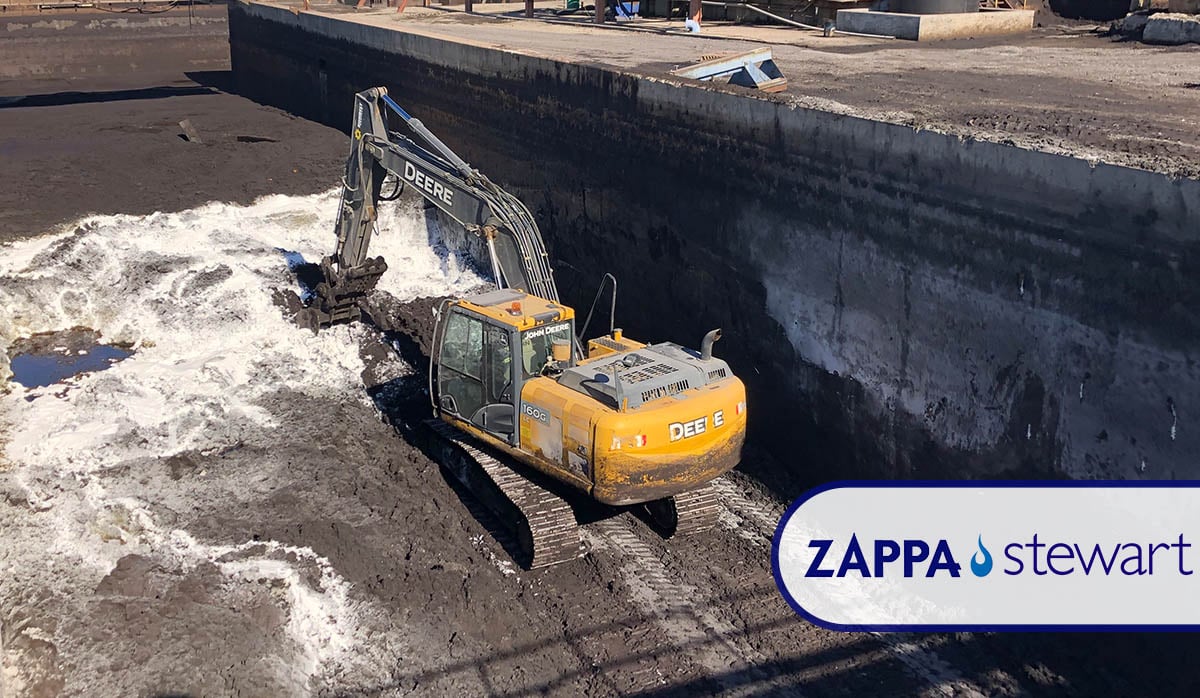 Sludge, a viscous mixture of liquid and solid components, is generated by essentially all industrial and municipal wastewater treatment facilities. When sludge must be periodically removed in order for plant maintenance crews to conduct repairs on process equipment and concrete holding basins, superabsorbent polymers (SAPs) are the safest, fastest, and most efficient choice to convert wet sludge to dry stackable solids.
Considering how effective sodium polyacrylate SAPs are for absorbing urine and fecal matter in the modern baby diaper, it's not surprising that SAPs are so effective for solidifying and retaining liquids from wastewater treatment sludge.
Sawdust vs Superabsorbents
Other reagents that might solidify sludge include sawdust and cement. Sawdust requires so much material (100%-200% by weight) to bulk the liquid waste so it can pass the EPA paint filter test that the disposal costs with sawdust are usually unnecessarily high. For example, one ton (2,000 lbs.) of sludge would require from 2,000-4,000 lbs. of sawdust to pass the paint filter test. Furthermore, sawdust allows the liquid waste to leach back out of the waste matrix under any pressure and slight vibrations. Imagine what happens to that liquid once the material is placed in a landfill under pressure. (Hint: It involves increased landfill leachate costs).
Cement vs Superabsorbents
Cement will react with the water in the sludge and create a hard material. that is accepted at most landfills, but only after a lengthy curing time, which can take weeks in some situations. Furthermore cement is extremely dusty, posing respiratory and skin contact hazards, as well as environmental risks, and can be quite corrosive to construction equipment. And finally, required dosage rates of cement also tend to be quite high (10%-25% by weight), contributing to unnecessarily high disposal costs.
Other technologies for drying sludge include filter presses, complicated and expensive machines that require real estate, multiple human operators, and routine maintenance. To solidify the contents of an aeration basin, sedimentation basin, clarifier, or digester vessel, a filter press would either have to be purchased for $100,000+ or rented for $10,000+ per month and must be transported to the site and operated by trained technicians.
Solidification with SAPs simply requires basic construction equipment, such as an excavator, backhoe, or skid steer and a dump truck. When SAP particles contact liquid, it is drawn into the SAPs matrix and retained under moderate pressures and vibration. The required dosage rate of SAPs for most liquid waste streams is only 1% (by weight), meaning that a ton (2,000 lbs.) of sludge would require only 20 lbs. of SAPs to solidify all free liquid. The superior absorbency of SAPs compared to other absorbent materials translates into major cost savings in transportation and disposal due to the small quantity of reagent needed.
Conclusion
Superabsorbent polymers constitute an efficient and cost-effective tool in the safety-minded wastewater treatment plant contractor's arsenal. If time on-site and budget are important to you, your team, and your clients, we'd like to demonstrate how SAPs can help you meet your goals.
For more information please contact us.