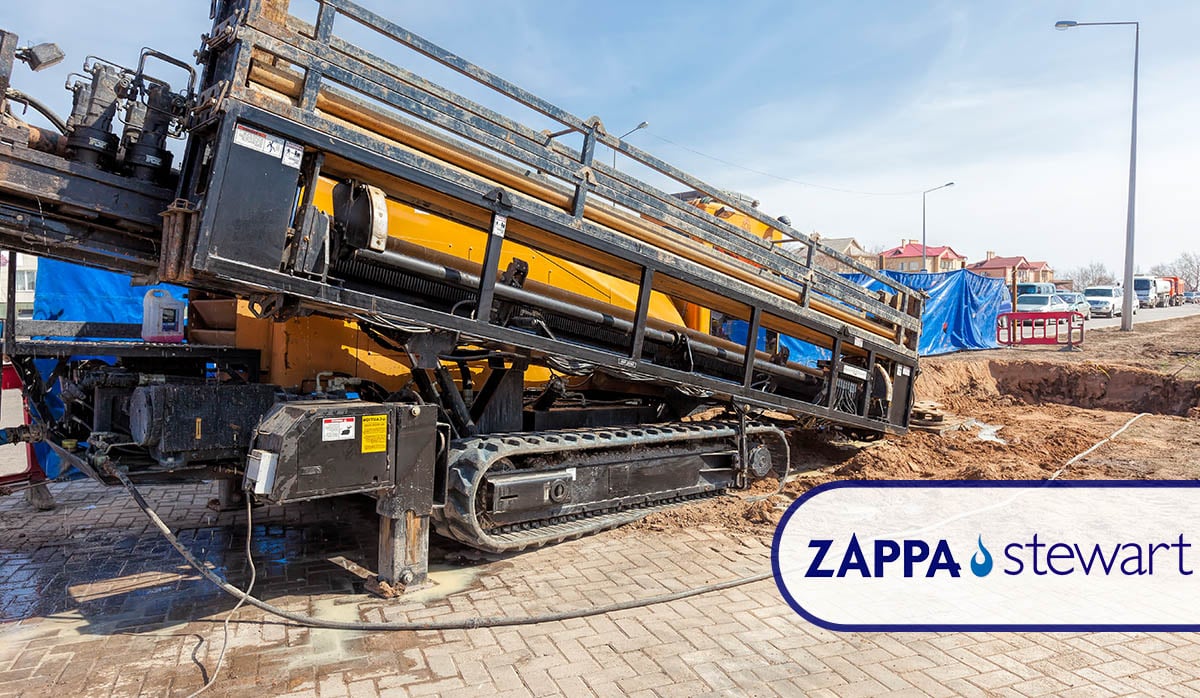 While the benefits of horizontal directional drilling (HDD) technology have changed the game for the utility and pipeline construction industries, the large volumes of fluid waste generated by HDD borings pose significant costs and environmental risk. Contractors and owners often choose to solidify drilling mud on site with superabsorbent polymers (SAPs) because of financial and time savings as well as SAPs' ease of use and environmental benefits.
Superior Absorbency = Cost Savings
SAPs have extremely high absorbency compared to traditional absorbents, like sawdust, waste fluff, and cement. Most liquid waste streams, like drilling mud, require a dosage rate between 0.5% to 1.5% (by weight) of SAP to completely solidify the fluid and allow the waste to pass the EPA Paint Filter test. By comparison, cement dosage rates can be as high as 20%-30% and sawdust can often require up to 200% of the weight of the waste fluid to eliminate free liquid. The high absorbency of SAPs means that more waste can be treated with less reagent. Minimizing the reagent quantity is important for a few reasons:
The less reagent needed, the less on-site mixing time is required, and;
The amount of reagent blended into the waste must be transported and disposed at the landfill along with the waste. Landfills charge tipping fees on a per-ton rate so the more reagent used, the more the landfill charges for the disposal.
| | |
| --- | --- |
| | |
| Spent Drilling Mud – Prior to solidification | Solidified Drilling Mud – After Mixing With SAP |
Related article: Degradation of Superabsorbent Polymers
Eliminate

Unnecessary

Transportation
On-site solidification of drilling mud is made easy with SAPs, allowing contractors to avoid hiring a costly vacuum truck service ($180-$300 per hour) to mobilize to the site, collect the mud, and transport it to a centralized solidification facility, where the waste will most likely be bulked up with inefficient sawdust, loaded on a dump truck and hauled to a landfill. Skip a step with on-site solidification with SAPs.
For a simple cost comparison of off-site solidification versus on-site solidification, please click on the banner below:
SAPs are Easy and Safe
SAPs are easy and require no special equipment. A standard excavator, which most contractors already have on site, is most common method of applying SAPs to a roll-off container or pit of spent drilling mud.
Furthermore, SAPs are safe for the environment as demonstrated by their usage in the following consumer and agricultural products: They're used every day around the world for the following applications:
modern baby diapers
feminine hygiene products
soil amendment (to increase moisture retention and enhance agricultural crop yield)
absorbent pads in meat packaging -- Sodium polyacrylate SAPs are U.S. FDA approved as indirect food additives.
SAPs leach no harmful chemicals and permanently retain the liquids they absorb, helping to prevent leaks, spills, and environmental contamination. Landfills prefer SAPs for liquid solidification because of the liquid retention capability, which prevents solidified liquid from being released into the landfill and adding to the leachate volume (SAPs reduce landfill leachate management costs).
Utility and pipeline owners are increasingly averse to environmental risks because of the long-term liabilities and costs (fines, remediation) that are associated with mismanagement of waste fluids and the potential impact on natural resources. Solidifying spent drilling fluids on site with SAPs minimizes the risk of drilling fluids entering sensitive surface water bodies, contaminating drinking water aquifers, or simply creating a public relations debacle for pipeline owners and utilities.
In summary, to reduce project costs, complete projects faster, and minimize environmental risks, on-site solidification with SAPs is a useful strategy for pipeline and utility owners and contractors.
For more information on how SAPs can help your organization meet its waste management goals, please contact us.