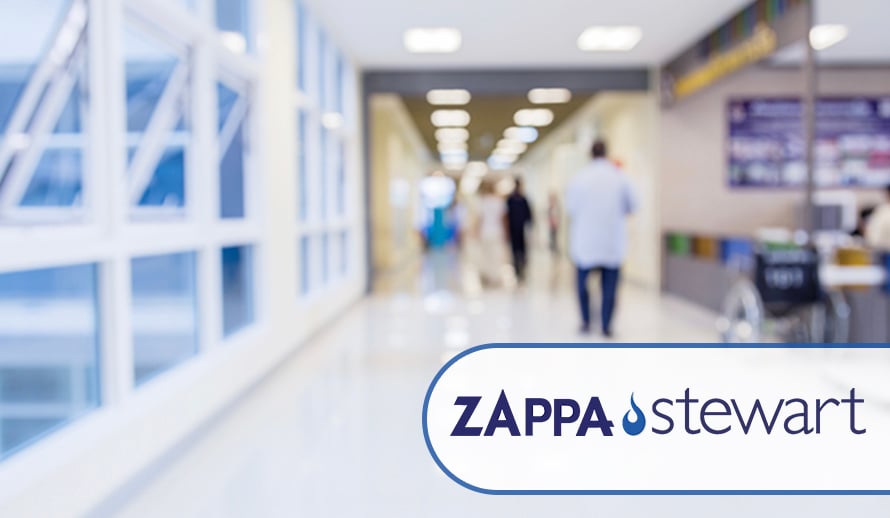 Coronavirus disease 2019 (COVID-19) and its cause, SARS-CoV-2, have taken a solid grip on both the US and the world, causing significant loss of life and economic destruction. The public in general now has a heightened awareness around not only this current coronavirus, but the potential for future viruses and pandemics as well. This only adds to the pressure hospitals and other healthcare centers have been under to reduce Hospital Acquired Infections (HAIs), which, according to the Centers for Disease Control and Prevention (CDC), affect roughly 1 in every 31 hospital patients across the United States.
The spread of viruses and bacteria are now well known to occur due to the transmission of bodily fluids from person to person through both the air and mutually contacted surfaces. Bodily fluids can be in the form of saliva expelled during respiratory breathing, coughing and sneezing. They also can also be in the forms of blood, feces and other bodily fluids collected during various surgical and medical procedures.
Zappa Stewart's treated medical solidifier products can help tackle the spread of viruses and other pathogens in blood, feces and other medical waste removed during medical operations. Zappa's treated medical waste solidifier ZapOut is capable of >99.9999% kill rates on many common microbial and viral infections found within blood and other bodily fluids collected in operating room suction canisters. Killing microbes at the source eliminates potential for indirect contact transmission while handling, transporting and disposing of medical waste receptacles by healthcare workers.
Related article: What is Your Next Step in Infection Control in the Coronavirus Age?
Regarding the novel SARS-CoV-2, laboratory efficacy testing is not yet possible. However for surface treatment disinfectants, the EPA classifies viruses into the 3 Spaulding Classification subgroup model. Each subgroup of viruses can then be ranked by their tolerance to chemical disinfectants and resistance to inactivation.
| | | |
| --- | --- | --- |
| Spaulding Classification Level | Tolerance to disinfection | Examples: |
| Small, Non-Enveloped Viruses | Highly resistant to inactivation | Picornaviridae, Poliovirus |
| Large, Non-Enveloped Viruses | Resistant to inactivation | Adenoviridae, Reoviridae |
| Enveloped Viruses | Easy to inactivate | Coronaviruses, SARS-CoV-2 |
Zappa Stewart ZapOut treated solidifiers have been tested and found to inactivate poliovirus to a log >log 6.15 (>99.9999% inactivation rate). As the poliovirus is in the most challenging subgroup, Zappa's ZapOut treated solidifier is expected to provide even greater inactivation rates for easier to inactivate coronaviruses including SARS-CoV-2 which causes COVID-19.
Let Zappa ZapOut treated medical solidifiers be your next step in halting the spread of infections in your healthcare facility. Contact Zappa Stewart for more information on how to treat your medical waste at the source and further reduce the potential spread of infections in your workplace.